Mobile Video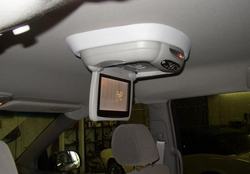 Need a car DVD player to keep the kids quiet on road trips? Want your car video system outfitted for GPS navigation? Looking to enhance your car stereo with a trunk-mounted video screen? Simply say the word and Extreme Audio can get you fixed up and ready to roll in no time. In fact, whatever type of mobile video platform you have in mind, we're right here to help in Mechanicsville and the entire Richmond region. What's more, you don't even need to know one piece of car video equipment from the next. With our knowledgeable sales staff and skilled technicians at your service, you better believe you'll get the right mobile video gear for your vehicle as well as a flawless installation that looks as great as it sounds. 
Forget about ordering online or relying on some big box shop with only a limited assortment of mobile video products. At Extreme Audio, we stock an awesome array of car video equipment from many of the biggest names in the industry. That way, you can compare the quality and performance of available car DVD products in a single, convenient stop. Plus, we can match your mobile video components precisely to the specifications of your car, truck, SUV, or even your boat or RV. So whether you're looking to be the envy of the neighborhood with a first-rate, custom-built car audio video system or you'd simply like a basic in-car DVD player, you can count on our mobile electronics specialists to have exactly the gear and know-how you need.

For your complete viewing pleasure, our car DVD capabilities include:
A variety of screen mounting options—such as headrest, flip-down, and in-dash video
Your choice of video input features—from stand-alone car DVD players to integrated units with combination radio, CD, DVD, and even GPS navigation
Entertaining add-ons—like video game inputs and installed gaming systems, iPod video inputs, infrared headphones, and remote controls 
Dedicated to bringing you the very best in mobile video, Extreme Audio carries only top-quality products from such leading manufacturers as:
Alpine
Audiovox
Clarion
Panasonic
Pioneer
Rosen
Vizualogic 
So don't limit the entertainment value of your vehicle to radio stations or CDs. Trust the pros at Extreme Audio and join the countless other satisfied motorists in the Richmond area and all across the country who are enjoying their favorite shows and games on the road. From keeping your teens and tots content in transit to helping you navigate unfamiliar territory, a mobile video system installed by our pros makes a wonderful addition to whatever type of car you drive. Get on the phone now and give us a call, or visit our showroom to see for yourself. We offer free estimates on all of our car audio video systems, as well as a lifetime warranty on every mobile electronics installation. 
Car DVD System
Car Video System