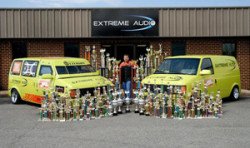 Extreme Audio is dedicated to helping you bring out the absolute best in your mobile electronics system. Whether it's complete marine audio for your boat, an in-dash navigation unit for your truck, or a seriously loud car stereo system, we have what you're looking for in mobile electronics. We bring our customers years of experience and a commitment to the best in quality and customer service. When you choose Extreme Audio for your electronics installation, you get top-quality components, superior service, and workmanship you can trust! If you're looking for great mobile audio or video, we're the shop you've been dreaming of.
Car audio video
Marine audio
Vehicle security systems
In-dash navigation
Lifetime warranty on our installations
Extreme Audio was founded 12 years ago, but our team of dedicated car electronics specialists have been stepping to the beat of the aftermarket auto industry for nearly two decades now. We have what it takes to turn up the volume in your vehicle, whether that means a complete car stereo with a kickin' subwoofer, a sweet marine audio array for your boat, or all-out device integration in your truck. Just take it from the glowing reviews of our satisfied customers. With comments like "highly recommend," "very impressive," and "the best e-v-e-r," we couldn't have said it better ourselves. You may have even seen Extreme Audio owner Mike Bartells on a segment of the Discovery Channel's Mythbusters: If Mythbusters co-host Jamie Hyneman can be blown away by the decibel-defying impact of our truly amazing sound, why shouldn't you!
Conveniently located in Mechanicsville, VA, Extreme Audio is proud to serve the mobile audio and video needs of the entire Richmond area, including Short Pump, Warsaw, Tappahanock, Charles City, King William, Midlothian, Varina, Colonial Heights, and the surrounding localities. Stop by our on-site showroom today to check out our huge selection of mobile audio and in-car video components, talk to our knowledgeable sales staff, and learn more about how we can help to bring out the best in your car, truck, bike, or boat. We're here six days a week to meet all your mobile electronics needs, from car alarms and Bluetooth integration to navigation systems, car DVD players, and backup camera installation.
In addition to our television debut on the Discovery Channel, Extreme Audio has made a few headlines over the years. We've been featured in Richmond Magazine for breaking 12-volt records, as well as in the Richmond Times Dispatch and Car Audio and Electronics National Magazine. If you're looking for an authority on the sales and installation of mobile electronics, you've definitely come to the right place!
As a member of MERA (Mobile Enhancement Retailers Association), Extreme Audio is more than qualified to hook you up with the biggest brands and the most advanced equipment in car electronics, including incredible car stereos and vehicle security systems. Just contact us today by phone, e-mail, or in person to bring even your wildest mobile electronics dreams to life. With our free, no-obligation estimates and lifetime installation warranties, we've got you covered, every step of the way.